Students and educators share the power of hands on learning
Trees to Sea 2020 project news
---
---
        PERSEVERANCE:  If I can do this now......there are no limits, really.
---
---
                         IMPACT: Community College campus President reflects on Wind & Oar  Support W&O
Building the Penobscot 13....kids gain perspective on their potential for success in school and career.  
---
---
MAKING MATH & SCIENCE RELEVANT:   "The project seemed to strengthen the students' engagement with school, develop math skills, apply learning and develop social skills. At one point, there was a break in the bow, so students became engineers to fix it." 
Quotable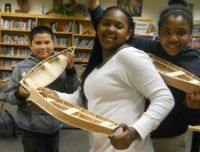 From Bill Wessinger's blog, (Wind & Oar instructor in 2014)
What sort of boat can you build with a foot elevated?
Its a model of the Bevin's skiff, which the Alexandria Seaport Foundation had designed for their Building to Teach Program. I built this model in preparation for the work I will do with the Wind and Oar Boat School, which utilizes this design and also model building for some of their classes. Though trade skills may appear to be the the focus of programs like this, I'm excited to see how much of an emphasis math gets, and in particular how math instruction can be embedded in projects and in ways that can be so much more meaningful for many students.
Its been interesting for me, as I have begun preparing to teach with the Wind and Oar Boat School, to watch out for just how much math and geometry is embedded in the boat building and woodworking I do. While I lofted the Shearwater, much of the work was plotting points on a plane. I constantly use fractions when reading a ruler, and frequently find myself dividing fractions by two to find the middle of pieces of wood so I can find an accurate mid point of pieces of wood. At times when working on my whale sculptures I have used algebra, trigonometry, and used ratios and proportions. For those of you out there who build boats, work on your boats, or who enjoy other forms of woodworking, I'd challenge you to keep track of the number of mathematical concepts you use next time you are building something. Watch for the details, and I think you might be surprised with what you find.
I always liked the intercection between math and woodworking, and for me it was an important way to reinforce or give meaning to many of the concepts I was learning. I'm looking forward to helping students see the practical applications of the concepts they learn in math, and though it may sound cynical of me to say, to help provide it with meaning beyond their next test.