TREES TO SEA
:  
Using an integrated place-based curriculum, high school students build a wooden boat from wood harvested from a sustainable forest.
Students go into the forest, select, fell, and mill a tree; then build a boat from scratch: lofting, then constructing while applying math, science, design, and technology skills (STEAM).  Building a wooden boat becomes the platform for an array of academic, social, and practical skills. The course completes with an on-water experience, rowing and or sailing. Using a variety of boats with which to challenge students' craftsmanship, teamwork, and problem solving skills, we also bring greater academic rigor to the programs. The boats get more complex and the programs get more time intensive and thereby, have greater, lasting impact.
Pilot 2019-2020:   In collaboration with Alliance High School at Meek, Hyla Woods, students spent two days at Hyla Woods. The students explored the forest, and sustainable forest practices, while also selecting and milling a small tree. January 2020 students began semester length course at Wind & Oar woodshop to build a 14' wooden sailboat, the Phoenix. Students earn Natural Resources (science) and Math (credits). The pilot class culminates with a sail on the Willamette River, and the presentation of the finished boat to the boat sponsor.     *in collaboration with Alliance staff and students, the class was restructured for the remainder of the semester allowing students to attend online and build an 18" wooden model, focusing on math, design, science. see photos
School Year 2021-22 :  Once again, back in the W&O shop, students at Alliance High School at Meek, meet T,W,Th mornings to first  "take the lines" (reverse engineer) an a 1940's Old Town rowboat. Lofting the boat (scaling from print to full size patterns) was next, when a decision to build the new version of this boat with lapstrake planking. This "new" boat is the Wind & Oar 12 or WnO 12
The 24 students in this year's Tree to Sea will see the WnO 12 launch on June 7th in the Willamette River. The celebratory launching will be followed by rowing and sailing in collaboration with the Oregon Youth Sailing Foundation.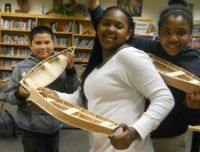 model course in 2014
| | | |
| --- | --- | --- |
| | Using the Pythagorean Theorem to make round spars from square wood | |
                                                                      More student directed teamwork
                                                                        And use of large power tools
Trees to Sea