Trees to Sea
Our high school programs are more advanced in the STEAM skills that are built into our Elementary School and Middle School Programs. We use an integrated, place-based curriculum for high school students to build a wooden boat using wood harvested from a sustainable forest.
How it Works
The goal of this program is to integrate multiple topics of study into a single process so that diverse considerations are employed while solving the problems that will inevitably occur. Knowledge of history and language and an ability to communicate clearly impact design. Knowledge of materials, natural science, and physics all influence quality of construction. Integrating all of these into one project gives them greater meaning, and opens more doors to new possibilities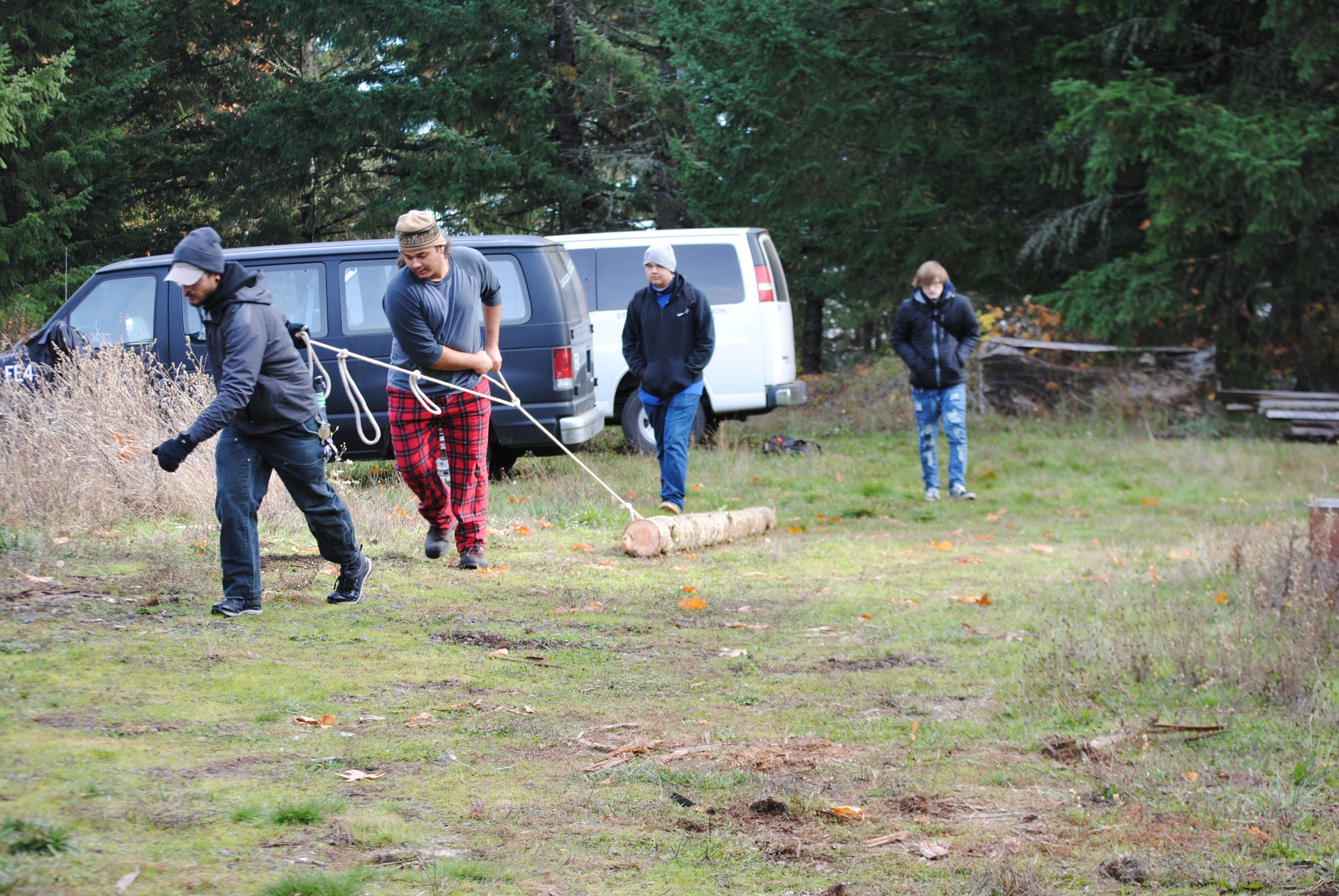 As the name implies, this high school program is designed to follow the course of selected trees from harvesting, milling, and curing, to selection for boat parts, use in construction and finishing, and then launching of a completed boat on the Willamette River. Along the way, the quality of the forest, the health of the watershed, and the method of harvesting will be considered using a sustainability lens.
Working in the Shop
In the shop, students help develop a design for the boat, draw a full-sized print (lofting) in three views on plywood sheets, take patterns from the lofting, and begin to build molds around which planks are attached to form the boat. In some cases, students may start the process with an established design on a scaled drawing, which requires scaling up to the full-sized drawing, or; they may start with an existing boat and create the drawing lines by taking measurements off the boat. Either way, they are dealing with a 3-dimensional object in 2 dimensions, which requires careful observation and precise measuring.
Our Curriculum
The process is not quick which allows us to dig deep on many subjects. Physics and geometry are obvious candidates for detailed discussions about form and function, and how to bend wood to our desired shape. Patterning planks that are compound curves when laid flat, but appear a a smooth (fair) curve when on the boat, demands understanding of the the 3-dimensional relationships of the other parts of the boat to that plank. Ultimately, we can connect almost any topic to the boat and the water.
Become a Partner
Are you interested in bringing our program to your high school? We can create a tailored program designed specifically with your youth population in mind.

Because we partner with school teachers, and they participate in the build, they are able to connect their lesson plans to what is happening in the shop, and give subject matter credit for the work. This compounds the relevance of both activities and demonstrates larger lessons in action.

Use the buttons below to reach out to us or learn more about our projects.